One of my favorite small businesses to shop for food props is For Such a Time Designs on Etsy. You may have seen all the hand stamped forks and spoons that I've used in my photos. They're so much fun. It gets kind of addictive sometimes to browse through the selections to find the utensils that are the perfect fit.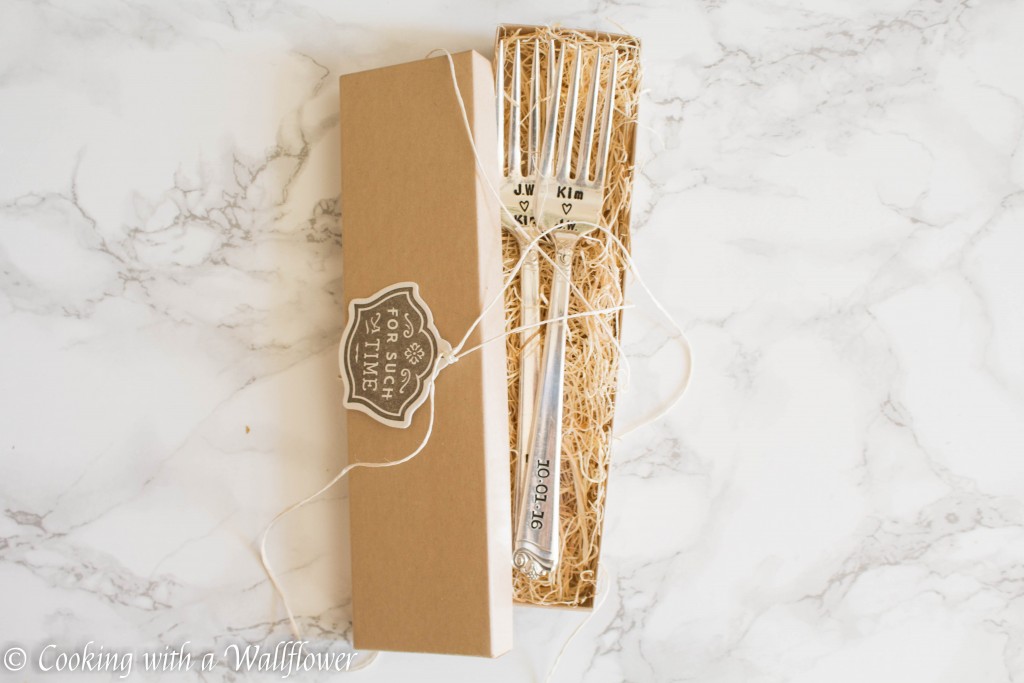 But even better, Aly takes orders for customized forks and spoons. So I'm also a fan of buying these custom forks and spoons as gifts. Like these ones that I got as a wedding present for my friend Kim from SweetKimplicity.
In this week's finds….
These sea salt vanilla caramels sound soo delish. I have a feeling I won't be able to stop eating these…
Are you a chocolate lover? Because this one pot chocolate Guinness cake with chocolate and cream cheese frosting sounds sooo amazing and totally decadent.
Oh, you know. When you have to feed a crowd of guests, why not make this pumpkin slab pie?
You guys! This hash brown crusted California quiche with avocado roses! It's almost too pretty to eat!
You know my obsession with chia puddings. So are you surprised that I really really want to try this roasted autumn fruit chia parfait?
Need the perfect fall comfort food? You'll want to try this beer braised chicken pot pie.
Love love love apple cider so this maple apple cider sounds soo amazing.
Cinnamon and apple is one of my favorite combination of flavors for fall. This cinnamon apple crumble cake sounds so perfect.
Looking for a fall weeknight dinner? You'll want to try this pumpkin seed pesto pasta with caramelized delicata squash.
If you love pumpkin and chai, you'll want to try this pumpkin chai crumble muffins.
These grilled corn elote style tater tots are the ultimate comfort food.
These pumpkin doughnuts look so mouthwatering.
Love the sound of this pomegranate ginger punch!
If making pies from scratch sounds intimidating, you'll want to take a look at this old fashioned chess pie. You'll be making your pies from scratch in no time.