I can't believe it's almost a week since my little getaway trip to Sonoma County.
We visited St Francis Winery and Vineyards in Santa Rosa along with so many other places. But I loved that we were able to do a free self guided tour through St Francis Winery's vineyards. I don't drink a lot of alcohol so sometimes I just want to walk around, admire the architecture, and take in the scenery.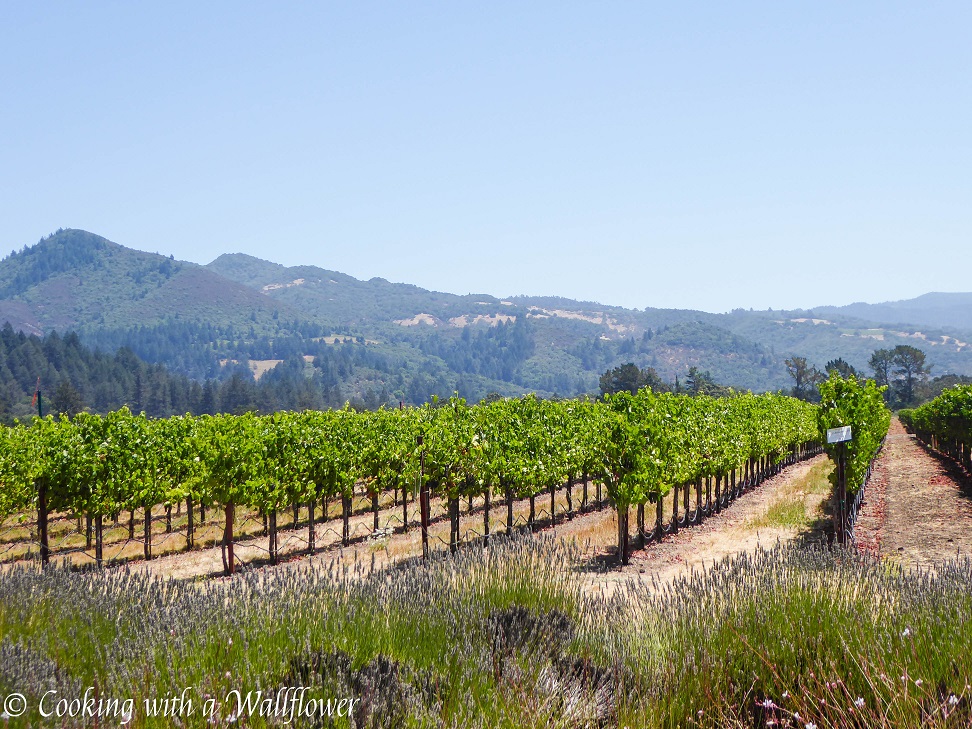 The view from the vineyard was just absolutely breathtaking and so peaceful. And all that lavender!
It was exactly what I needed to relax and to feel inspired again. But one day just didn't feel like enough, and I'm already missing all that sunshine!
I'll share all the places we visited in a later post, but you can see some of our photos on Instagram.
In this week's finds…
Banana cake, perfect for those bajillion ripe bananas sitting on the counter waiting to be used.  Topped with cream cheese frosting. How much better can it get, right?
Oh my gosh. Big giant cinnamon rolls for those weekend mornings where you just want to indulge. I mean, seriously. I will wake up early for this.
Bagel bombs because bagels stuffed with cream cheese are absolutely perfect for breakfast.
This creamy spinach artichoke tortellini would be the perfect dinner on a weeknight.
I love peaches so this baked peaches and cream oatmeal is just up my alley.
How delish do these chicken tinga tacos with grilled corn guac look?
This blueberry ginger mojito looks so refreshing!
OMG. These double chocolate chunk raspberry stuffed cookies? What?! I soo need this in my life right now.
I love a good salad loaded with a ton of ingredients. This balsamic peach basil chicken salad with crispy prosciutto sounds soo amazing.
Do you love guacamole as much as I do? This summer garden guacamole looks so delish.
Oh! This cheddar cornbread waffle blt with chipotle butter sounds like the perfect way to start the morning.
I am addicted to ramen so when I stumbled across this spicy pork ramen noodle soup, I knew it would go on my to make list.
This cold soba noodle citrus salad looks so refreshing and perfect for summer.
If you're a fan of Chipotle, you may want to keep this chipotle copycat slow cooker pork in your bookmarks.