Last weekend, I finally had the chance to go back to the Farmer's Market at the SF Ferry Building.
And guess what I found? Lots of asparagus and artichoke. <3
But what really caught my attention? These gorgeous purple asparagus.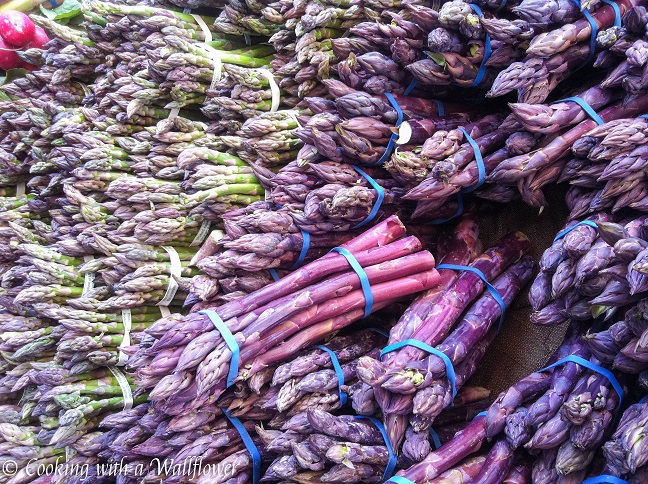 I really wanted to buy them, but at $7 a bunch, I wasn't sure it was worth the price. Maybe next time.
Has anyone tried them before?
This week's finds…
Looking for a spring dessert? You may want to try these Meyer Lemon Blueberry Cupcakes! I love the combination of lemon and blueberries.
Oh my gosh! If you're in love with nutella, these Nutella Brownies are for you! These brownies are made of purely Nutella, no cocoa powder or melted chocolate.
How pretty is this Strawberry Rosehip Frozen Yogurt? It's so perfect for spring!
I've been so in love with bowl foods. There's something about having everything in a single bowl with a ton of colors that taste so good. So of course, when I saw this Mediterranean Falafel Bowl, I want it for myself.
Kimchi chicken and bacon fried rice? Two of some of the most amazing flavors in one dish. I know I have to try it.
I'm all for dinners that take only 30 minutes or less to make so this 30 Minute Cajun Salmon with Salted Lime Butter is absolutely perfect.
Remember how I said that I love bowl food? Well, how about this slow cooker jerk pork in pineapple rice bowls?
It doesn't get more spring than with this Butter Lettuce Salad with Pickled Red Onion, Toasted Walnuts, and Mint Vinaigrette.
The contrast in flavors in this Harissa Ginger Maple Glazed Shishito Peppers sound amazing.
This Thai Pork and Rice Porridge sounds soo comforting.
Anything with garlic butter is bound to get me excited. So can you blame me for drooling over this Garlic Butter Capellini Pomodoro with Shrimp?
Oh my god. I think I can eat this roasted artichokes with curried aioli as a snack!
How amazing do these Grilled Pork Skewers look?
Ahhh! This berry cider cake with mascarpone cream looks so delish and perfect for spring!
I love roasted cauliflower so this roasted thai chili cauliflower bites sounds amazing.
Looking for a vegan dessert? Try this vegan mini powdered donut.
This rustic French onion soup sounds delish!