This week has been absolutely amazing.
But I've had so much birthday cake this week, and so much leftover cake in the fridge, that I'm not sure I'll be able to cake for awhile…
Which is shocking considering how much I love my chocolate cakes.
I'll share more birthday photos later. =)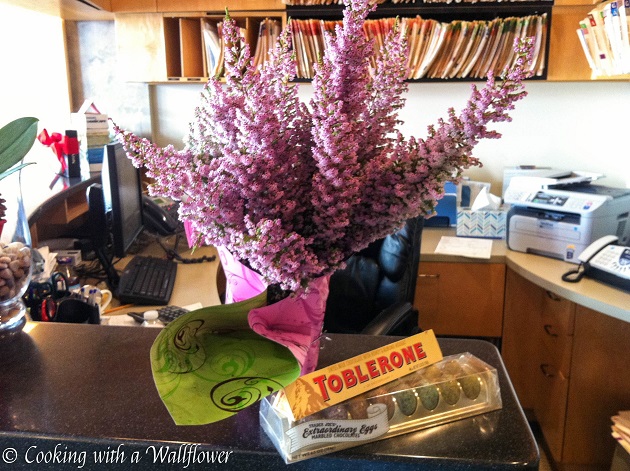 This week's finds:
You know how much I love blood oranges. So this Blood Orange Avocado Quinoa and Kale Salad is the perfect dish for me.
Looking for an Easter treat? Try this Easter Bunny Bark!
I think I'm drooling just looking at this Irish Pub Spinach and Artichoke Melt. Can't wait to give this a try!
Oh my gosh! This chicken shawarma naan salad with sweet potato fries looks like an amazing choice for dinner.
How delish does this blueberry muffin granola greek yogurt breakfast bowl sound? I can totally eat this every day.
You know how I was obsessed with my own avocado smoothie bowl? Well, this avocado vanilla smoothie sounds absolutely amazing.
I'm a huge fan of risotto. It's one of those dishes that's so sophisticated. This lemon chicken risotto sounds perfect for a weeknight dinner.
This carrot cake cinnamon rolls with mascarpone icing! A dessert made just for spring.
This ultimate verde veggie sandwich looks amazingly delish. And healthy too!
Carrot cake donuts sound soo amazing.
Omg. Strawberry rice crispies treats. I think I can indulge in these all spring.
Brownies are my weakness and these caramel nut brownie sundae look so decadent.
If you love Milano cookies, you can make your own at home now.
How amazing do these chocolate raspberry pancake cake look? I can totally eat these for brunch.
If you're looking for a new and healthy recipe for dinner, try these spaghetti squash lasagna boats.