Back in December, when I was in New Orleans, I bought myself a set of fancy measuring spoons. There were so many to choose from! I wanted a set of each one.
But then… What the heck would I do with several sets of measuring spoons?
Then, I found a set of measuring spoons for "a dash, a pinch, and a smidgen." And I knew I had to get myself a set. That's when you know you're a food blogger. You're obsessed with these little things.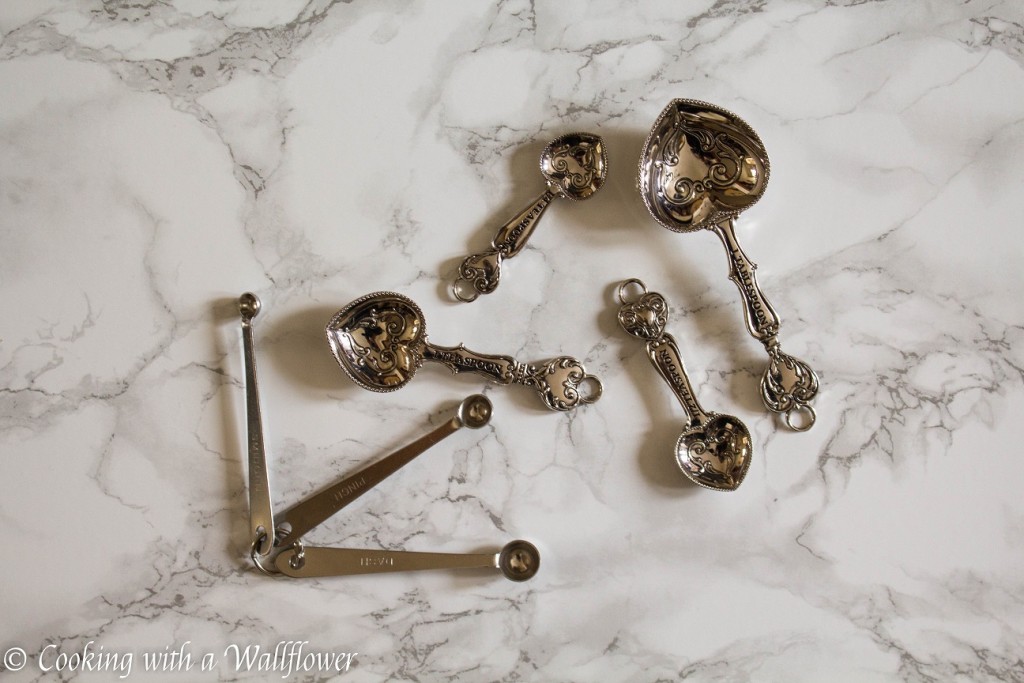 And what do you think of my new background?
Confession. The marble isn't real. Can you tell? It took me less than 5 minutes to make. And now, I have a new background for my photos =)
This week's finds!
This vegan zoodle fresh rolls with mango tahini sauce looks soo amazing and healthy. And it's so perfect for spring.
Need ideas for a snack? Or maybe a breakfast on the go? I could totally eat these crispy chewy chocolate almond coconut granola bars every day.
Oh my god. This Hawaiian tequila chicken salad with pineapple vinaigrette looks so amazingly delish.
If you're looking for a one pan dish to make for a no mess dinner, I think this one pan lemon roasted salmon, potatoes and parmesan asparagus would be perfect.
Look at the chocolaty goodness of these double chocolate Irish tea infused oat muffins. I would totally wake up early for these.
How pretty are these cheesecake eggs with shortbread soldiers? It's absolutely perfect for Easter.
If you're looking for a pick me up breakfast, you might want to try this oatmeal latte. It's an oatmeal breakfast with latte.
Sometimes trying to get dinner sorted can be such a pain, especially when you've just gotten off work. So I'm totally adding this easy honey Dijon skillet chicken to my dinner plans.
These warm carrot cakes with cream cheese sauce look like the perfect idea for dessert.
If you have jam waiting to be used up in the fridge, you may want to try these jam bars.
This bacon mac and cheese melt. It's like the ultimate comfort food.
This buffalo chicken fajitas sound soo unique and delicious.
Healthy carrot zucchini muffins sound like the perfect way to start my day.
I'm in love with breakfast bowls and this winter chia pudding breakfast bowl look soo delish.
Look at this swiss and bacon loaf! It's soo mouthwatering.