My sister brought home a giant cinnamon roll from Devil's Teeth Baking Company. It was soo good. Not too sweet with a crunchy bottom. And now, I'm so tempted to try to make my own cinnamon rolls.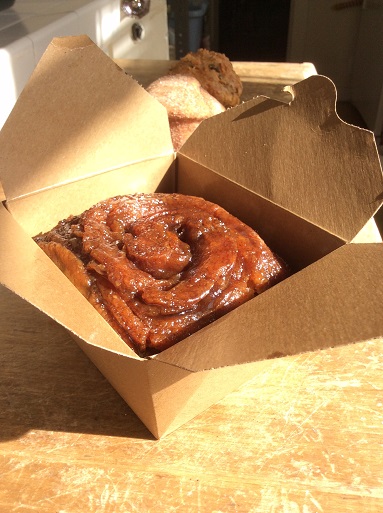 I saw the word bacon and sriracha in this Bacon Sriracha Queso, and I was totally sold.
Peppermint Patty Chocolate Cupcakes sounds like the perfect dessert to me.
How amazing does this Chocolate Pots de Crème look?
I love roasted cauliflower. I can eat them alone as a snack. So this Lemon Paprika Roasted Cauliflower is perfect for me.
I need these Meyer Lemon Tartlets in my life.
I love the idea of a clean eating so I might just have to try these sweet potato brownies.
Um, what? 5 Minute pho? Where has this been all my life? Chicken version for me, of course.
This cream cheese chocolate chip banana bread has got to be the ultimate banana bread.
I've been on a chipotle hype. So when I saw these hasselback potatoes with chipotle butter, I knew I had to pin it.
Oh, my god! I love that this Thai yellow curry is served in coconut bowls!
Double chocolate brownies! They speak to the chocoholic in me.
Oh, I'm loving this blackberry cheesecake bar!
Homemade Fudge Stripe Cookie Ice Cream sandwich is sooo mouthwatering.
Red velvet whoopie pies are perfect for Valentine's Day. Or maybe, Galentine's?
Soo tempted to make this apple cinnamon caramel monkey bread.
How tropical does this grapefruit hibiscus margarita sound?
I've heard so much about pimento cheese, and I'd love to start with this Tex Mex Hot Pimento Cheese Dip.
This one pan Tuscan chicken is going to solve my weeknight dinner dilemma.
I have to try this Caribbean Style Burrito Bowl.
Oh my god! Samoa brownies! It'll satisfy my Girl Scout cookies cravings!
Ooooh! Spicy food lovers! These baked jalapeno poppers look so delish!
I love using leftover ingredients to make a meal so this leftover vegetable noodle soup fits my needs perfectly.
I can't wait to make these simple maple vanilla baked pears!
How amazing does this strawberry bottomed pineapple margarita look?
As if hot bacon cherry pepper hummus doesn't already sound absolutely delish, it's paired with pizza pita chips!
Rice bowls. Quinoa bowls. Buritto bowls. Poke bowls. Now, there's grain bowls! This grain bowl with maple chipotle Brussels sprouts and coconut roasted sweet potatoes sounds like the most amazing meal ever!
How cozy is this salsa verde chicken and rice tortilla soup?
I can totally see myself eating this superfood chocolate quinoa bark all myself.
I love nachos. So this sweet potato and black bean nachos with green chile salsa is very high on my "to make for a snack" list.