Oh my gosh! Earlier this week, I took a sushi making class with my coworkers from one of my dental offices as part of our team building exercises.
I've attempted to make California rolls on my own before, but they always came out a little disappointing. Something was always off, the rice always stuck to my hands, the rolls smushed, and it was soo time consuming. So I sort of gave up on it. Lol. Until now.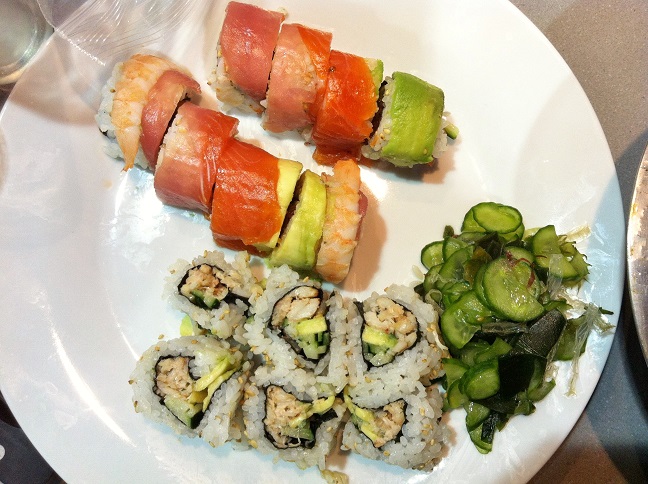 I wasn't really sure what this class would be like, but it turned out to be so much fun. We learned how to make California rolls, Rainbow Rolls, and hand rolls. Plus, we got to work on our knife skills and how to cut fish for sushi. A fun and informative class.
Plus, we had to face a sushi challenge to create a Halloween themed sushi in 15 minutes.
If you get the chance, you try taking this class with Breakthrough Sushi.
Chocolate, Chocolate and More
Have you heard of the blog, Chocolate, Chocolate and More? Joan, the blogger behind Chocolate, Chocolate and More, passed away unexpectedly yesterday morning in her sleep leaving behind three children. She supported her family using the income generated by her blog. Although there won't be new posts, any time someone visits her blog, the traffic will create income to support her family. So today, I'm posting several links to recipes of desserts that I'll be dreaming of tonight.
These Mud Hen Bars look so delicious.
For those without an oven, these Chocolate No Bake Cookies.
These Black Forest Cookie Cups are perfect for entertaining.
Sugar Cake Cookies. Yes, please.
Another no bake recipe. No Bake White Chocolate Velvet Pie.
These Chewy Oatmeal Coconut Cookies look so easy to make.
3 Minute Fudge. I'm sold.
Brownie Bottom Cheesecake Bars. Brownies and cheesecake? Can I have seconds?
Food
This Skillet Chicken with Creamy Lemon Thyme Sauce is on my dinner menu for next week.
Maybe this Apple Cider Autumn Sangria will appear for Thanksgiving?
Baked Buttermilk Pumpkin Doughnuts with Hot Cocoa Glaze sound so amazing.
Caramelized Pear and Hazelnut Crumble Tart is the perfect fall dessert.
Roasted Butternut Squash Hummus. My butternut squash addiction can continue.
Slow Cooker Apple Cinnamon Steel Cut Oatmeal with Whipped Maple Cream. The flavors of fall in a bowl.
Orange Cranberry Blended Margaritas. Yum.
Carnitas! So simple too.
Caramel Banana Pudding. Can't wait to try this.
Pumpkin Chocolate Cupcakes. How can I resist this combination?
Chicken Fajita and Rice Soup sound so delicious.
Loaded Baked Potato Broccoli Crust Pizza. Oh my gosh. Broccoli crust? Love!