I love coming out from work and seeing this pretty sunset lighting up the sky.
I wonder if anyone thought it was weird that I stopped in the middle of the parking lot at Safeway with my phone aimed upwards.
No worries. I looked before I stopped at the side of a car to take this photo.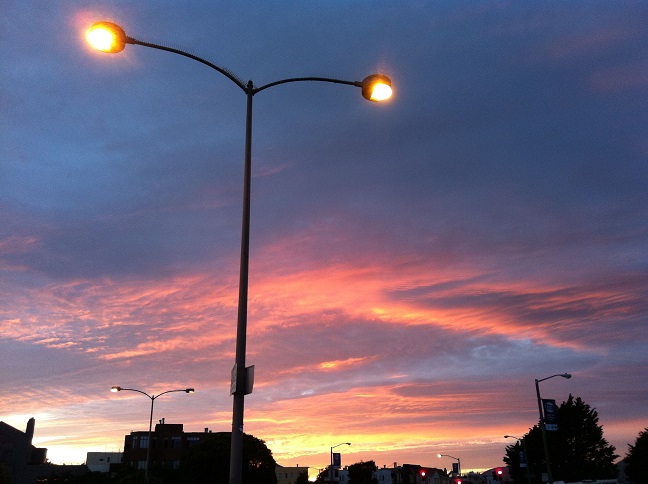 This apple butter cinnamon roll cake sounds perfect for fall.
The gorgeousness of this chili stuffed avocado.
I have a weak spot for Korean Fried Chicken. My kind of KFC.
How delish does this shredded BBQ chicken burger sound?
Pumpkin Fudge. Oh yes.
Baked Maple Glazed Apple Crisp Doughnuts. My mouth is watering.
Apple pistachio quinoa salad. Healthy and delicious.
I'd love a taste of this campanelle with basil walnut pesto and roasted broccoli.
How cute is this Sophia the First mini cake?
Peach Caprese Salad sounds so refreshing and perfect for the end of the summer.
Apple Coffee Cake would be the perfect way to wake up in the fall.
This roasted tomato and red pepper soup sound so flavorful.
I love the duality of this whole wheat cheddar and goat cheese quiche. You get to choose which side you want to eat.
Oh my god. Shrimp and crab mac and cheese. My name is written all over the bowl.
This unique grilled pineapple nachos.
Pumpkin Hazelnut Hot Chocolate. My life is complete now. I'll need this in my life this fall.
I can eat this Veggie Fajita Stuffed Sweet Potatoes with a Chipotle Drizzle for days.
I need this roasted green chile queso cheese dip.
I can soo picture myself eating this make ahead breakfast casserole all week long.
This lazy girl chicken quinoa enchilada will have to go on dinner meal plan for next week.