Oh my god. I cannot tell you how much I'm in love with the new Oreo Thins. It's really really bad. At least with the regular ones, I know they're terrible for me so I stop eating after 2-3 cookies. But the Oreo thins are so much harder to stop eating. More cookie, less cream. I'm in trouble. lol. This isn't even a sponsored post. I'm just really addicted.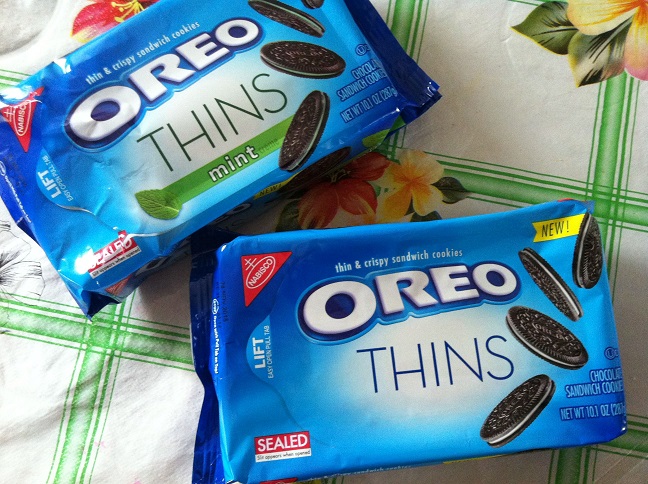 Here are links from around the web that I'm loving this week =)
Food
I love love love macarons, but they're sooo expensive. Don't you think? And I've always been intimidated by how precise you have to be in order to make macarons. But these step by step directions from Sally's Baking Addiction make me want to run out and buy all the ingredients this weekend.
This green chile chicken enchilada is going to be on my dinner menu for next week.
How about starting your morning with this tropical banana rum and melon breakfast bowl?
I really want a bite of this Summer Peach and Raspberry Pie.
Are you a chocoholic like I am? Yes? Don't these Brown Butter Triple Chocolate Blondies sound so mouthwatering? It's telling me to make it.
How gorgeous is this coconut zebra cake look?
As if risotto isn't fancy enough, you can add lobster to this brown butter lobster, sweet corn, and fontina risotto.
How delicious does this greek chicken gyro Caesar salad look? It's going onto my summer eats list.
Kiwi sushi, how cute and healthy are these?
I love how unique this combination of cantaloupe and avocado with a pomegranate reduction. How refreshing is that?
Did you know that there are like, a bajillion berries out there? When I saw ollalieberry jam and tayberry jam, I started looking at the different hybrids of berries. And it is my goal to try them all, whether fresh or in jam form. That said, I so totally want to try this foraged wild marionberry crisp! Now, who can direct me to marionberries?
Pizza soup, yes, please.
Three ingredient strawberry banana ice cream with a chocolate drizzle. Tell me I'm not dreaming. So simple, yes!
Oh my god. Spicy Corn and Avocado Soup. I think I could eat this for days.
BLT Avocado Toast. Avocado and bacon, how can you go wrong? Right?
Random
I'm told that "lol" is so yesterday, that "haha" is now the way to laugh out loud in the digital world. Um… Not for me.
My sister shared this Korean Snickers video with me, and we both thought it was funny. In true Korean style drama.
It's so sad. I saw this video of a husband surprising his wife by announcing she's pregnant, but a mere few days later, they announced that she miscarried.
Want to get the most out of your burrito from Chipotle? Try these tips.
A wine and chocolate themed spa sounds like the thing I need right now. If only it was a lot closer.
Hope you enjoyed my finds this week! Until next weekend!