Look at these tomatoes! They're so perfect for salads!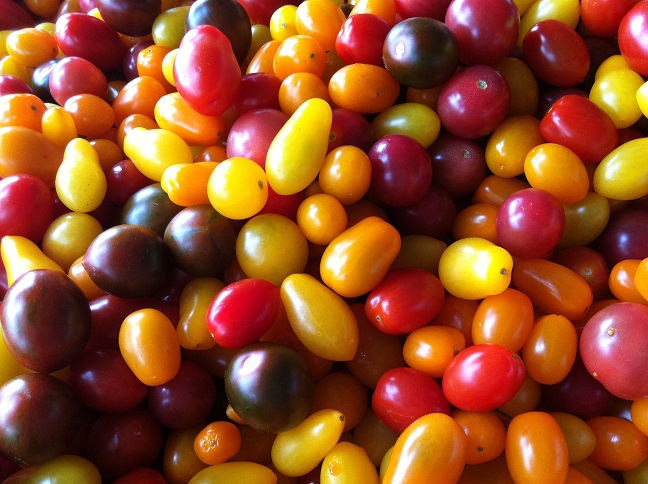 Books
Spiraled by Kendra Elliot
The third book in the Callahan and McLane series. In this book, there is a series of mass shooting. Young men open fire in a public place, killing innocent people, and then themselves. But how are these crimes related?
Juliet Immortal by Stacey Jay
I was never a fan of Romeo and Juliet, mostly because I love happy endings, and well, Romeo and Juliet did not have one. But when I saw the storyline for this book, I couldn't resist giving it a try. In this story, Romeo murdered Juliet for a chance at immortality. It gives the classic story a supernatural retelling. If you're a fan of the classic story, this book might not be for you.
Romeo Redeemed by Stacey Jay
The sequel to Juliet Immortal. I think the title says it all. Lol
Food
I'm drooling. Beignets!
This grilled baby back ribs with root beer BBQ sauce sounds to die for. Then again, I'm a root beer addict. The words root beer makes my heart sing.
Oh my god. Strawberry Buttermilk Pancakes with Honeyed Butter is like the perfect breakfast. I can eat these for days.
Sunflower Seed Veggie Burgers with Grilled Halloumi + Curried Tahini Sauce. Veggie burgers are like my thing. I go into a burger place and I'm 95% likely looking for the veggie option.
I've never had clafoutis before. But seeing these cherry clafoutis definitely makes me want to try them.
Grilled Mediterranean Cedar Plank Salmon sounds like the perfect healthy meal.
Hershey's Soft and Chewy Chocolate Chip Cookies, I have to have. How can I resist bakery style cookies that are chewy on the edges and soft on the inside?
Random Finds
Have you heard? There's going to be a taco emoji. They say that tacos come up in conversations a lot, that there was also a petition on Change.org. I personally don't think tacos appear enough in my convo enough to warrant a taco emoji. Lol
I've always wanted to be a great artist, or at least learn how to draw decently. My art is like that of an elementary school student. But after seeing this tutorial for a flower chalk art, I want to roll up my sleeves and play with chalk.
Have you seen this pregnancy announcement video? Oh my god. Lol.