Have you been to Sift Cupcake and Dessert Bar before? Or maybe they sound familiar? They might if you watch Cupcake Wars on Food Network. I didn't. I just randomly stumbled across their store and I've been in love with their cupcakes ever since. The cupcakes are super moist with the perfect frosting to cake ratio. And if you feel like you need more frosting? You can buy yourself a frosting shot. Yup! You read that right. A frosting shot.
Earlier this week, I went with my friend Jen for our random cupcake day. I saw their flavor of the month and could not resist getting it. Sprinkle Me Pink. Sooo cute. Vanilla confetti cake with Strawberry Cream Cheese Frosting. If you're in the area, you should totally try one before April is over. And even better, every Tuesday in April is buy one get one. So you can have two!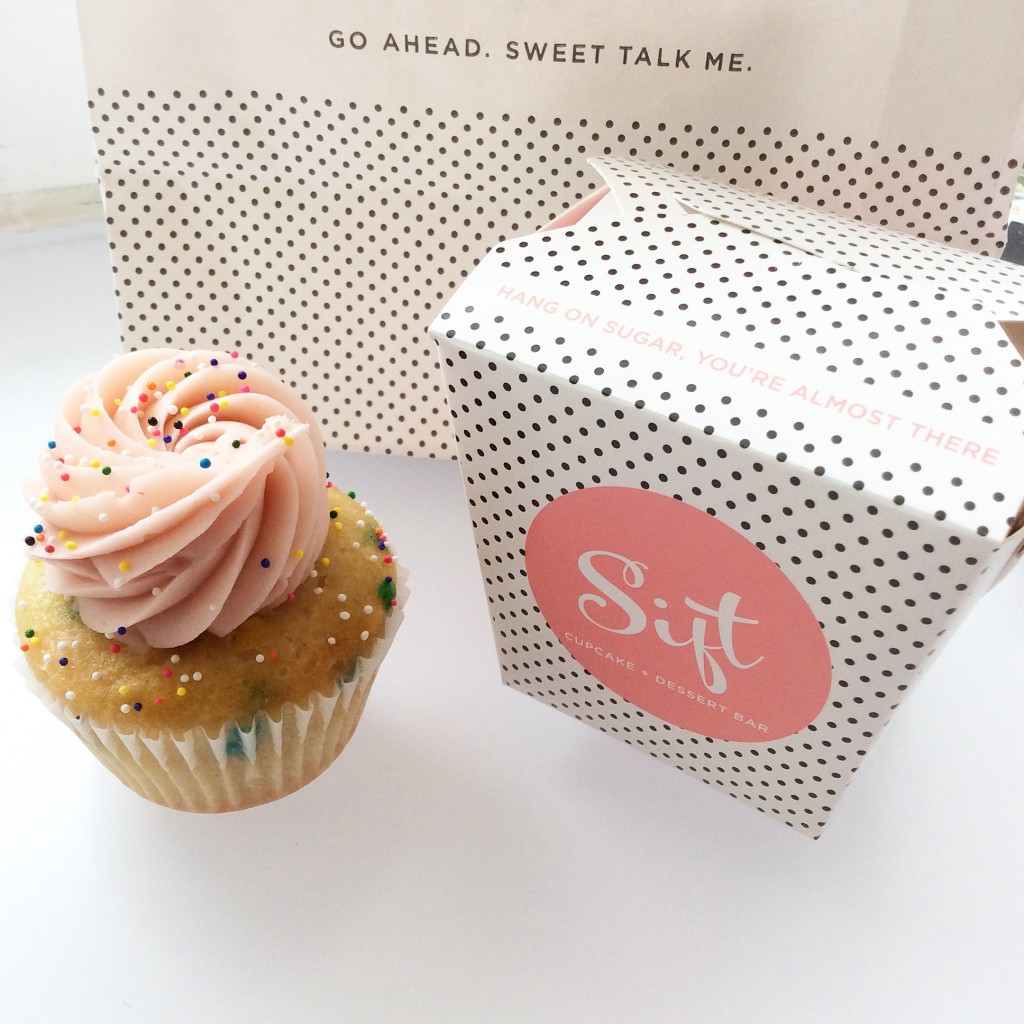 There's a new store opening next month near where I work. It's called Sugarfina with the tagline "a luxury candy store." Which obviously caught my attention. What in the world is a luxury candy store? I mean, luxury chocolate, yes. But candy? So I looked them up online.
Um…. Champagne bears, peach bellini. What?! On my list of places to try. =)
Okay, a kitchen counter that makes sure you eat healthy? Mind blown.
I think I need one of these BetterBacks. My posture is awful. When no one is watching me.
I saw the season finale of Scorpion. Did anyone else see it? Sooo intense. And no cliffhangers. Yes!
These Raspberry Streusel Bars look absolutely mouth watering. I need them in my life. Like now.
Mexican Grilled Corn Avocado Toast. I think I love any avocado toast. But sweet corn sounds perfect.
This Rosemary Apple Chicken Burger Slaw. Memorial day weekend is coming up. And this seems perfect for a gathering, yes?
Blueberry Mojito Royale. I would love one now.
Lavender lemonade. So perfect for spring!
Spinach and artichoke galette. This takes the classic spinach and artichoke and makes it so fancy.
Tuna Salad on Crackers sound so simple yet it looks perfect for snacking with friends.
Basil and Sun Dried Tomato Pesto sounds like a great combo.
I'd love to try this Easy Tomato Florentine Soup.
What are some of your favorite links this week?