It's December, and I'd love to start the holiday season with a little giveaway as a thank you to my readers and to announce the opening of my Etsy shop!
I've been soo behind in replying to comments and visiting blogs over the last week or so. A lot has been happening (lots of eating, shopping, and work!), but I'm trying to catch up so bear with me while I'm trying to recover from my food coma after all that food (and leftovers!) over the weekend. =)
What are the prizes?  I'm giving away $25 PayPal cash and a 77-page 2015 Blog Planner to one lucky winner. Plus, I'm giving away two more 2015 Blog Planners to two other lucky winners!
I decided to give out PayPal Cash instead of a gift card. That way you can spend it on whatever you like, as long as you have a PayPal account to receive it. Plus, this way my international readers can also participate!
With the holidays coming up, I know some of us may be struggling to buy gifts for our families, especially for the children.
I know what that's like.
When my sisters and I were kids, our family lived in a basement level apartment with water leaking from rusty pipes in the ceiling and the occasional mouse running around. Our parents couldn't afford to give us toys for Christmas. All of our toys were given to us through donation by the San Francisco Fire Fighters Toy Program. You have no idea how excited we were to look through that black trash bag filled with tons (at least, it seemed like tons) of toys for each of us. There were brand new tamagotchi (does anyone still remember those? lol), Barbie dolls, Sky Dancers, Anastasia Train Sets, tie dyed kits, occasional books, and various other gifts throughout the years.
A lot has changed since those days.
I want to take a moment to encourage you to donate to toy drives or food drives this holiday season if you can. We might not see the impact that we have on others, but we can make a huge difference with the little things that we do.
I hope that for those who might need a little extra cash, this little giveaway will be helpful. =)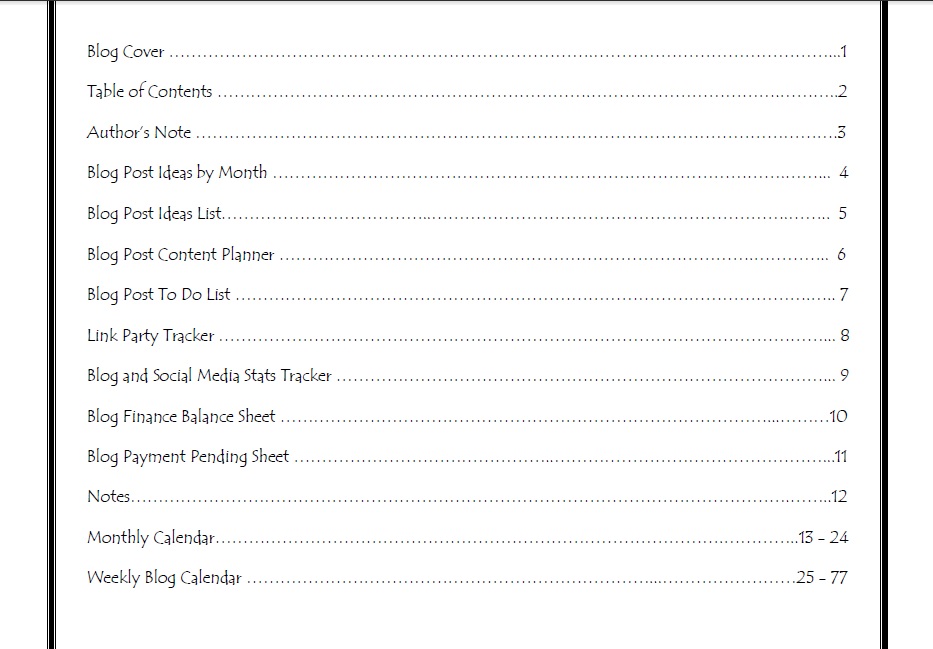 In other news… I'm excited to announce that I opened an Etsy shop, CookingwithWalflower, to sell my 2015 Blog Planner! My blog name is way too long to be written fully for Etsy so I had to shorten it. Lol.
I wish I could just give them all away for free, but it really did take awhile to put 74 pages worth of prints together so I decided to sell them for $8.
But! Since the shop is brand new, I'd like to give all my readers a 20% discount on the planners. Just enter the promotion code: HAPPYDECEMBER before checking out! You should be able to purchase through PayPal so there shouldn't be any issues with international purchases. But if you do have issues, please feel free to contact me.
And guess what? I'm also giving away three copies in this giveaway! Plus I'm providing links to my monthly calendar. That will be for free for anyone who needs it.
You can download a copy of the monthly calendar below for free by clicking the download button.
[wpdm_file id=4]
You can find more free blog planner pages here.
These  images below are sample pages from the planner. You can see the entire content of the planner in the image above.
The monthly planner, which you can download, for free with the link above.

The weekly blog planner, which includes lines for scheduling your blog posts, check boxes for social media (which makes it easier to keep track of everything!), lines to write down deadlines and due dates, and weekly goals for your blog. There are 53 pages, one for each week of 2015. You can actually use this as a planner for every day life by ignoring the social media check list. =)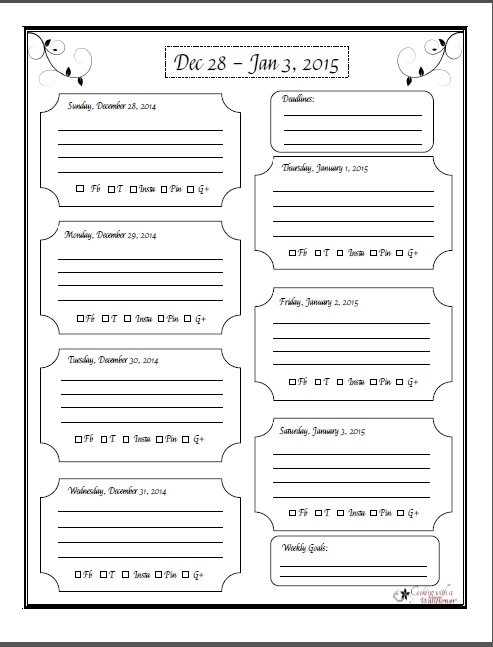 I really hope that you'll find this blog planner helpful!
If you've used my previous planner pages and liked it, I think you'll like this set. =)
Winners will be announced on this page and Facebook. I will email the winners, and they will have 48 hours to respond before I draw new winners.
Enter the giveaway in the Rafflecopter below. Sometimes it takes a minute or so to load. Make sure to leave a comment and click "I commented" in the Rafflecopter. It will reveal other ways for you to enter. I added many different ways for you to enter this giveaway because I know not everyone has every social media account. I will be checking to see if you followed the requirement for the entry drawn. It's just fair that way. =)
Good luck with the giveaway!